Guide for Free DVD Protection Removal Plugin on Mac
This guide tell you to use the DVD Copy Protection Removal plugin and Video Converter to rip commercial DVD Movie.
Step 1: Download and install Video Converter.
If you had installed a video converter like Wondershare Video Converter Ultimate for Mac, go to the Step 2.
Step 2: Download and install Free DVD Protection Removal on Mac
Download Free DVD Protection Removal for Decryption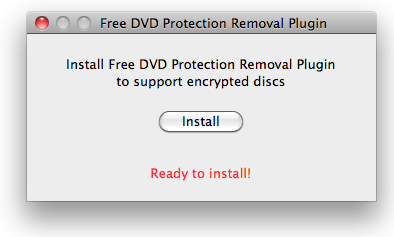 Step 3: Install Free DVD Protection Removal
Double click the CSS Tools icon to install it. Hit the install button and the installation will be done in seconds. Now your installed i video converter is able to rip copy-protected DVD movies.
Note: For Mac OS X Lion or later, you may get notice from Gatekeeper. Please go to Apple menu > System Preferences… > Security & Privacy > General tab. Under the header "Allow applications downloaded from:" select "Anywhere" to fix the issue.
Detailed guide: http://support.apple.com/kb/HT5290?viewlocale=en_US